Welcome to The Shore Community Church. Our name is a celebration of our passion for our local community strung along the seashore in sunny Bognor Regis! You can get a flavour of what we are about on this page, by checking out our Media resources or social media, or better yet… by popping along and visiting one day.
Sunday Services
People often comment about how friendly and welcoming our Sunday gatherings are! We try to make all our services relevant and accessible whether you've never been to church before or have been going all your life. The church is very informal - you can wear what you like, sit where you like, sing, stay quiet, move about… you can be yourself. People usually start arriving from about 9.45 and have coffee, tea and toast in the lounge. The main service starts about 10.30 and usually finishes at 12.00. During the meeting our band will lead contemporary worship songs; there'll be notices, news and prayers, and a talk. If you need any help or information, or would like to chat or pray with someone, look out for someone wearing a Welcome or Ministry Team badge.
Kids Church, Youth Church & Family Services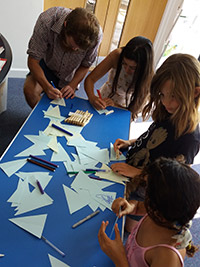 Everyone gathers together at the start and after about 15 minutes the young people are invited to go out to join in with the brilliant, age appropriate kids and youth programs we run. Your children are welcome to stay with you in the service if you'd prefer, but if you want them to go out to kids or youth church, make sure you go and sign them in. Every couple of months we have an all-age Family Service which often features our youth band. This is usually only an hour and is made up of all sorts of illustrations, games and activities, so hopefully there's something for everyone. You are always welcome to bring a book, game, activity or toy along to help keep your child occupied and happy!
There are also various clubs and activites for children and youth that we run throughout the year.
See our Kids & Youth page for more information.
Nursery
Treasure Box is a full time nursery with dedicated facilities on our campus. Consistently rated well by Ofsted, Treasure Box creates a creative and nurturing atmosphere in which pre-school children can thrive. For more details contact the nursery manager, Kim Doherty. Click here for more information.
Community
Our facilities are often used by community groups, statutory bodies and charitable organisations. In addition to our own work we support other local charities doing great work in our town. See The Haven and The Shore Cafe!